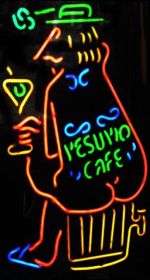 Vesuvio Cafe 2019
North Beach (San Francisco)


Vesuvio Cafe is a historic bar in San Francisco, California. It is located at 255 Columbus Avenue in North Beach, and is across the street from 'Specs Twelve Adler Museum Cafe.' Running between Vesuvio's and Lawrence Ferlinghetti's 'City Lights Bookstore,' is Jack Kerouac Alley (formerly the Adler Alley). The building where Vesuvio takes up parts of the first and second floors was designed by Italian architect Italo Zanolini and opened in 1916.
The bar was founded in 1948 by Henri Lenoir, and was frequented by a number of Beat Generation celebrities including Jack Kerouac, Gregory Corso, Allen Ginsberg, Lawrence Ferlinghetti, and Neal Cassady, as well as other notable cultural figures such as Dylan Thomas, Bob Dylan, and Francis Ford Coppola.
In the 1970s, the bar was sold by Lenoir to Ron Fein, and is still operated by the Fein family along with Janet Clyde, Christopher Clyde, and manager emeritus Leo Riegler.
Vesuvio is open every day of the year, Mondays through Fridays from 8 a.m. to 2 a.m, Saturdays and Sundays 6 a.m. to 2 a.m. Go in and enjoy, one of the coolest bars on the West Coast.
Photograph by Elena Erickson